ఆంధ్రప్రదేశ్ లో ఫీల్డ్ అసిస్టెంట్, డ్రైవర్లు, అటెండర్ పోస్టులు, ANGRU నోటిఫికేషన్ విడుదల 2022
The Eligible candidates are requested to apply for the above mentioned purely temporary positions. The candidates must submit their scanned signed biodata with photograph, and scanned original certificates in chronological order of acquiring the qualifications and their experience, all the documents in one pdf file. This should be submitted by combining Signed biodata with photograph, scanned original certificates into one SINGLE PDF file only to recruitment.angrauapsara@gmail.com . The Subject in the e-mail must start with the "Sl.No. of Post – Title of the Post – Na upme of the Candidate – Highest Qualification". If the subject is not mentioned in this format, the applications will not be considered for scrutiny at all and will be summarily rejected. Ambiguous applications will not be considered for scrutiny. Any body who sends their application in two split mails will also not be considered. The short listed candidates with required qualifications and suitability,will be informed about the online interview link 12 hours before interview to their mails from which the applications are made.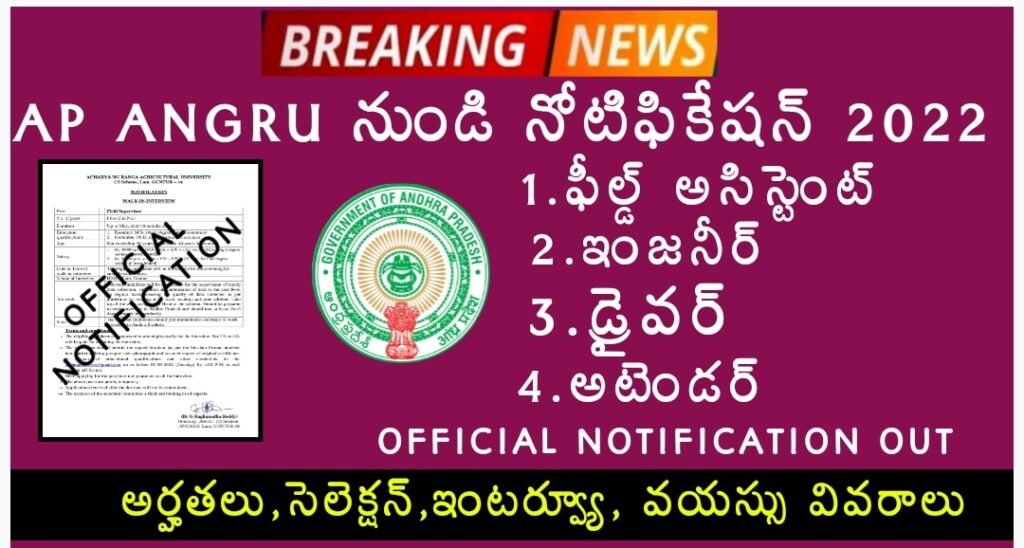 Recommendations from anybody and campaigning of the false claims of any nature by any individual or his representatives will become disadvantageous to their candidature. The nature of the duties involves agricultural drones related research & development, drone pilot training programmes in class and field, assembling of drones, custom hiring centres of drones in farmers fields, drone demonstrations to farmers and other stakeholders etc. and other office related responsibilities etc. as desired by the Principal Investigator of the Centre for APSARA, RARS, Lam, Guntur. As the decision of the interview committee is final, keeping the interest of the technical work involved in the project. The Associate Director of Research, Regional Agricultural Research Station, Lam, Guntur has the right to change the date, venue and mode of interview and reserves the right to cancel the notification either fully or partially as per the requirements. At the time of interview, the cadidates are requested to attend from static desktop/laptop without disturbance from the background with assured power and internet access. No smart phone interview will be entertained. If there is any internet connectivity issues at our end, interview will be done telephonically. Hence, the candidates are requested to keep their phones in active (at the number provided in their respective bio-data). The shortlisting and selection is purely based on the scientific and technical requirements of the Centre for APSARA as it needs special skills and knowledge on drones. Those who are in agreement with the above conditions only need to apply.